My.eyes.are.huge! :: Monday, March 28, 2011
Sometimes I don't think people believe me when I say my eyes are HUGE. And, in a style that emphasizes dramatic eyes and making your eyes appear larger than they are, it's kind of funny that my eyes are almost TOO BIG!
Some examples:
On the left, me with very little make-up (I think I might have mascara on) and no product in my hair. (and a very frowny face :P)
On the right, the whole 9 yards. Eyeliner, falsies, 14.5mm circle lenses, hair done.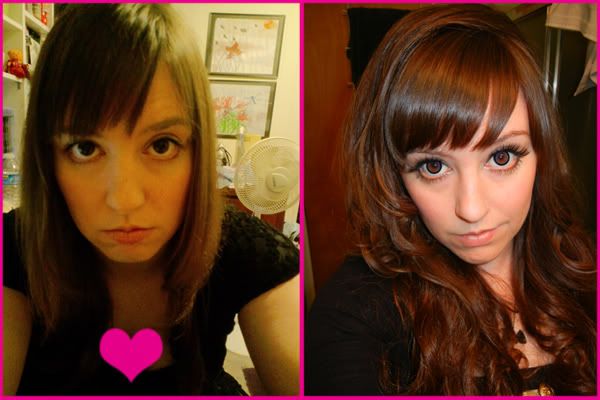 As you can see, my eyes are HUGE whether I wear makeup or not. I don't open them bigger or try to make them look larger, they're just like that.
Another example:
On the left, No makeup at all, nothing in my hair. On the right, another example of me gal-ed up with the same circle lenses as before in a different color. But, I'm smiling in both pictures!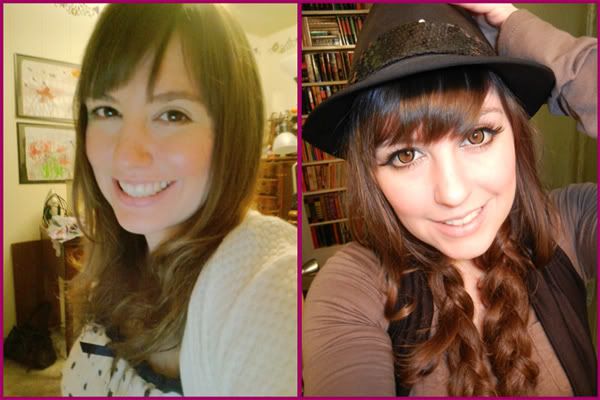 LOOK! My eyes now "look good" and "correct." But, the things is, I can't smile ALL the time, and I'd look awfully funny squinting everywhere I went. Everyone will wonder where I've misplaced my glasses!
Once-more, my makeup in both right side "gal-ed up" photos is virtually identical. The only real difference is different circle lenses and different lighting. (and the smile of course!)
So, to all the people asking me "are you making your eyes that big?" or " are you opening your eyes bigger on purpose?" (and I've been asked this oodles of times) No, my eyes are just super large.
I'm open to suggestions about how to "fix" this. Though, I don't know that it really needs to be fixed xDD I'm just different in a different way than most.
I've tried lining my waterline and wearing larger circle lenses, which has been suggested. But really, I didn't see any difference (except maybe they looked larger?)
That's all for now xDD
posted by l0ckheart @ 3:15 AM

------------------------------------------------------------------------------
Newer Posts
Older Posts