HAPPY EASTER! :: Monday, April 25, 2011
Happy Easter everyone! I hope everyone has a good time with their family and friends today!
I'm just making a quick post to show some of the things I've bought in the last couple weeks.
I've been buying things like crazy lately. I have been working over 40 hours each week for awhile now, so I've had a little more money to play with! Bad thing, I don't have a ton of time to wear all of my new things... Good thing, I have money to buy most things I want!!
Anyway, on to my "gets"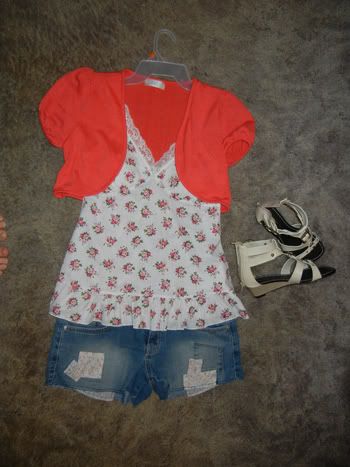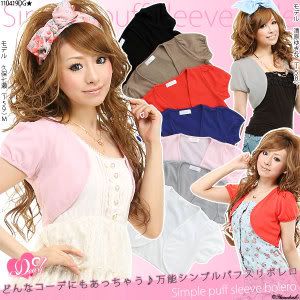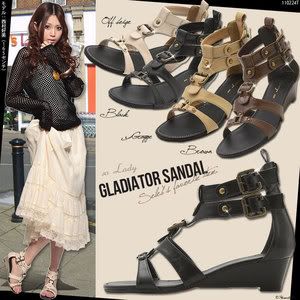 A mix of things I got. The bolero and shoes are from Yumetenbou. I wanted to get more colors of the bolero, but they ALL sold out. So, I have to wait until they restock before I get the other colors I want. The shoes are SO cute, and really good for a casual Spring/Summer co-ord.
The top and shorts I scored from WAL-MART! That's right, I said it. I shop at wal-mart. Sometimes, you can find some really awesome things there. You have to really inspect everything to make sure the seams are sewn well and that there are no stains on what you are buying. If you know what you're looking for, it's a good cost effective place to find some pretty things.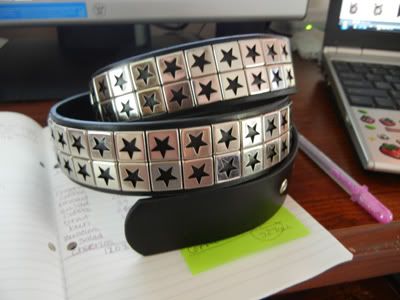 Belt from wal-mart. Very cute and works with my rock style.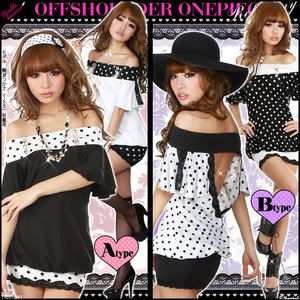 Agejo dress also from Yumetenbou. This is REALLY HUGE! I think I bought the wrong size. It still looks cute on, but it just seems like it could be tighter. I'll take pictures wearing it when I get around to it xP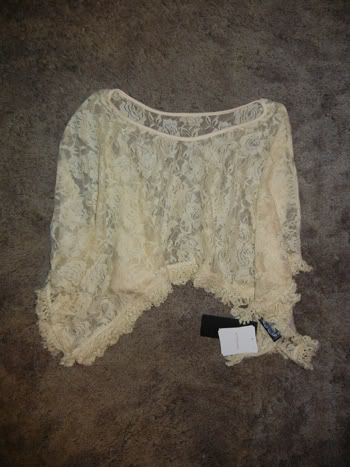 Lacey cape. It looks really cute with a floral maxi dress.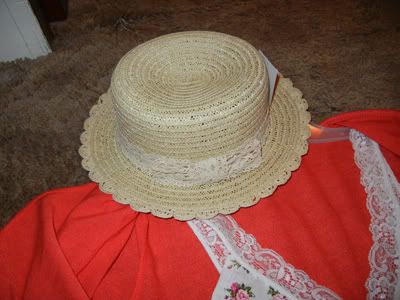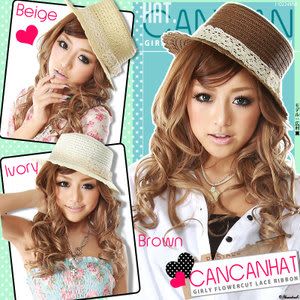 Can can hat. Very cute, but almost too large for my head. I didn't know it was going to be this big because it looks much more proportional on the model.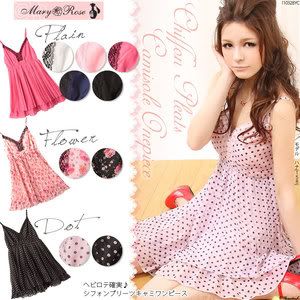 Pink polka-dot dress! I wore this for my friends and my Easter bar bunny HOP! It's VERY cute!

And then, I still have a package I'm waiting to get.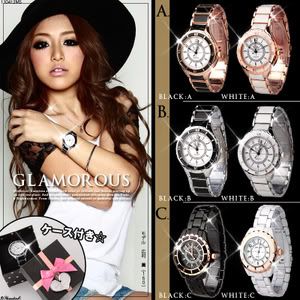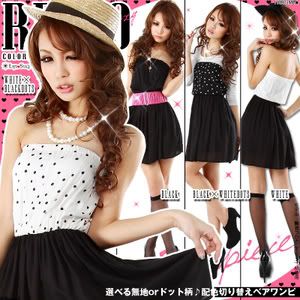 I need a new watch, so I got the white A one. I got the black shirted jumper, and then the all black version of both dresses. I am SO excited to get the dresses!

And, finally, I went out last night with some friends and wore the polka-dot dress. I worked a 9 hour day and then had to hurry hurry hurry to get ready, so not the best effort, but I felt cute and Easter-esque.
Just 3 quick pictures before I ran out the door.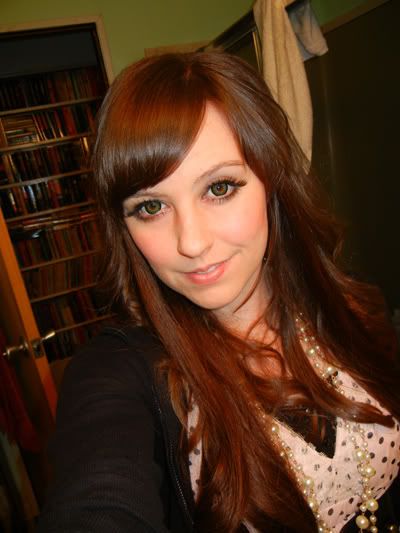 I need to find a new quarter sleeved black bolero somewhere. I just LOVE this one, but I think it's starting to wear out. SADNESS!

And, at the club, the photographer there took TONS of pictures of my friends and I, so hopefully I'll find those and have a couple more to put up!

posted by l0ckheart @ 11:35 AM
8 comments

------------------------------------------------------------------------------
New things! :: Thursday, April 21, 2011
Not a whole lot to post about, got one of the packages I've been waiting for from rakuten, hopefully will be getting the other one in a couple days.
Also,
Pinky Paradise
has sent me a replacement lens for the defective one! Excited about getting that as well because I LOVE the blue lenses!
But, for the most part, I'm just posting to talk about NEW LAYOUT! Got bored with the layout I threw together when I first started blogging, so I decided to actually work a little on a new one. Realllly happy with it!!!
Let me know what ya'll think...
OH! and I started using Disqus because I like how you can reply specifically to people! I've had it for awhile, but wasn't using it. I like it so far. &hearts
And, I promise the next entry will be a lot more interesting!
posted by l0ckheart @ 2:16 PM
2 comments

------------------------------------------------------------------------------
Throw some glitter make it rain on 'em :: Sunday, April 17, 2011
Extension review time!!!

Since I actually got a chance to wear them most of the day today, I feel I am now in the position to make an accurate review xPPP

So, I just got my new extensions from Head Kandy the day before yesterday. This company provides services to most of Europe, the UK, USA, Australia and Canada. I have to say, I've have nothing but good to say about this company. They supply a great selection of human hair clip in extensions for a pretty decent price. Not only do they have a great selection, but they have wonderful customer service. If you're having trouble figuring out which color extensions would be best to match your hair, all you have to do is send a couple good pictures into their customer service, and they will give you a best match option. Great if you're going back and forth between a couple different colors!! Also, they provide quick shipping!! I placed my order on April 5th and they arrived to my house, shipping from the UK, on the 14th. So, about 9 days from check out until I had the actual product in my hands. In my opinion, that's pretty excellent service.

The product came packaged quite well in a super shiny metallic mailer.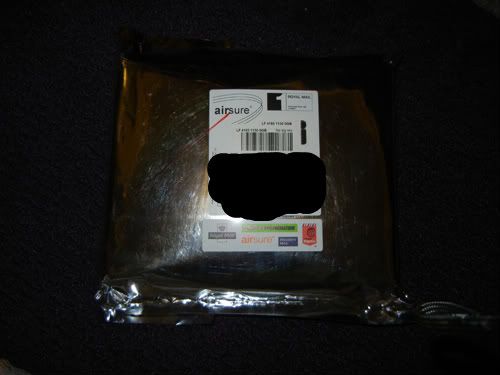 When I opened the mailer, inside was a nice box with a detailed pamphlet explaining how to take care of your extensions, coloring guidance, and tips on how to style and wear them. Very nice! Head Kandy's extensions can be dyed up to 2 shades darker, and they also supply a Dye it Yourself color option which is great for dying your extensions to match your natural hair color. However, the extensions cannot be lightened, so try to pick a shade lighter than your natural color if you are unsure.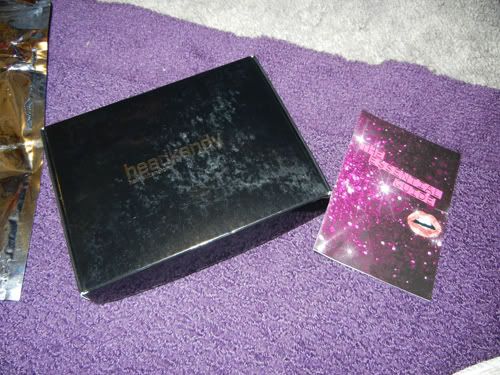 Inside the box, the extensions were well packaged in a high quality plastic case. And, they supplied extra clips in the event the clips already on the extensions break. I great idea since I've had a clip break on me before!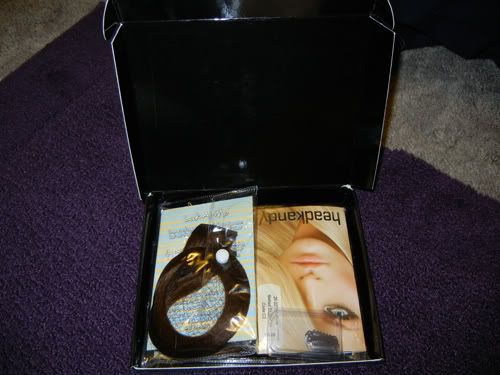 The plastic case was separated into 2 sections, in one section was this...


One of the sets of clips so that you could take it out and make sure the extensions match your own hair color! So, if you accidentally order the wrong color, this makes it a lot easier to tell without having to open the entire case of extensions. I ordered melted chocolate - medium brown for my extensions, and, though a little redder than my own, turned out to be a great match for my hair.

All of the hair came in a hair net in order to keep the hair together and smooth when storing. Here comes my only complaint! The hair net for the majority of the hair is a little on the small side, which makes putting the hair away a little difficult. But, it is a sturdy hair net... and not a janky holey one like my curly extensions came in.

I got the whole head set of extensions ($179.99 + s/h), so my pack came with two 1 clip wefts, five 2 clips wefts, two 3 clip wefts, and a 3 clip that had 4 wefts sewn together. WAY more hair than I really need, but probably just enough for someone who has a lot of thick hair.



The hair, right out of the plastic was very soft and smooth. There were no snarls or knots and the hair didn't have that coarse feeling some of the cheaper human hair extensions tend to have. The clips on the extensions are pretty standard, but not cheap. They clip really easily into my hair, and once in, they stay really well. I haven't had any problems with slippage yet, and my hair is baby fine and smooth.

I am VERY happy with the quality, and very much think the extensions are worth every bit of the $200 I paid for them!! Customer service on Head Kandy's website is wonderful, shipping is fast, great packaging, and very high quality hair extensions. SO, if you live in their shipping area and are looking for relatively affordable human hair extensions, this is an excellent place to purchase from!

And, of course some pictures! I actually took my time putting the extensions in today, so they blend!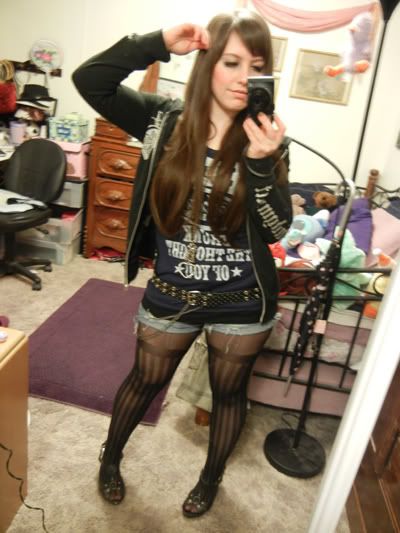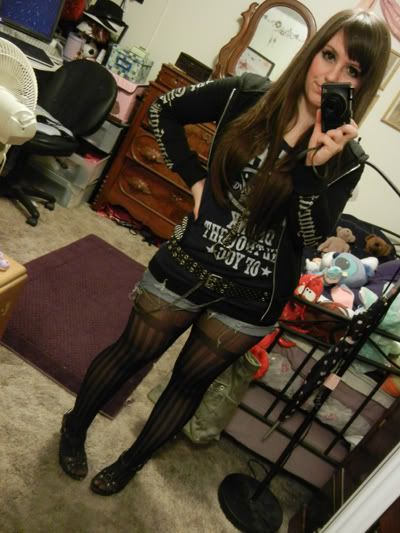 Went for a rocker agejo-esque look for tonight. I would kill for a d.i.a. belt, though. No joke.





Did my makeup a little different today. Added some point bottom lashes at the outer corners of my eyes, and also did a little bit of smokey eye using black eyeshadow mixed with my usual dark brown. I think it turned out pretty well.


posted by l0ckheart @ 3:24 PM
3 comments

------------------------------------------------------------------------------
Circle lenses and extensions!! :: Friday, April 15, 2011
I got both my shipment of circle lenses from Pinky Paradise and my extensions from Head Kandy today!!! SO EXCITING! And, all on my day off, too! What could be better? (well, getting my shipment from Rakuten at the same time, but we're not being picky)

SO, I'll do a little review!!

The circle lenses, as always, came packaged well with each set wrapped in it's own safe wrap. And, the lenses each came with its own cute animal case.


I FINALLY got my favorite one! And in my favorite color! PURPLE FISH! YEAH!... anyway.

1st. Princess Mimi Apple Green 15mm (Tsubasa Bambi series)




One in, one out. No makeup.


Both in, no makeup.

Both in with makeup picture is below!

When I first put these in, I was amazed by how COMFORTABLE they were. They are SO much more comfortable than all my previous pairs of circle lenses! It was almost refreshing for my eye to put them in! And, once they were in, I really couldn't feel them. Also, after wearing them all day (still in now) they are still feeling pretty good. They are a *little* dry, but not any worse than if you wore regular contacts all day.
Comfort: 5/5
The enlargement is nothing to sneeze at either. 15mm is HUGE! But, I really didn't feel like they were obscene. I was a little wary at first because I haven't tried anything this big yet. I thought I was going to look like some creature from a horror movie... or worse, a bug (ew). but they actually looked quite good. Also, the color was just magnificent! And, when the camera isn't all up in my grillz! they blend really well.
Enlargement/Cosmetic: 5/5
The fit is pretty excellent as well. My left eye has an ever so slight astigmatism (not enough to need toric lenses, though) and that usually makes the contacts with color all the way to the pupil look... bad. Almost like I'm an iguana because they slide to the outer corners of my eyes. *gross* But, with the combined base curse and enlarged diameter, the contacts actually fit very well and didn't slide as much as other circle lenses I've had in the past.
Fit: 5/5

Overall, the Princess Mimi Apple Green lenses are quite wonderful! I recommend them heartily to anyone looking for a lens that you can wear all day that gives you awesome enlargement!
Overall: 5/5

Next up, Big DM23 Blue




One in, one out. No makeup.


Both in. No makeup.



Both in with makeup. (flash, sorry, it got dark xP)

Now, with these lenses... I didn't feel I could do quite a fair assessment. While opening the vials, I cut up my knuckle on the metal top part (owwies!) and completely ruined my nails. Of course, not the lenses fault, but still kind of pissed me off xPP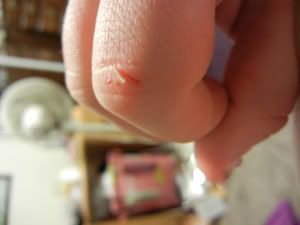 That, and the first one I popped in was HORRIBLY defective. I mean, holy mother of GOD! PAIN! It was like I'd just put a HUGE rock into my eye. I did everything I could think of to try to fix it,, stared at it trying to see if maybe there was something on it or a small tear... and I couldn't find anything. So, I let it soak for awhile, and popped the other one in. This one was very comfortable. Not quite as comfy as the Princess Mimi ones, but still nice. After soaking the other in solution for a bit, I tried putting it back in, but to no avail, it was still AWFUL! I sucked it up so that I could take some pictures. But, after, I promptly contacted Pinky Paradise to ask if there was anything that could be done about this defective lens. I'll let ya'll know what happens with that.
Comfort: 3/5
I felt like these lenses were VERY close to the Princess Mimi ones when it came to enlargement. They're only 14.5mm, but they still filled out my eye really well. They looked amazing (when the one eye wasn't watering like crazy). The blue is very vibrant and because the color fades away before it reaches the pupil, they blend wonderfully. I hope that I can get at least one lens replaced so that I can wear these!
Enlargement/Cosmetic: 5/5
Finally, they fit well, too. The one that is messed up would catch and get stuck when I blinked my eyes. I'm pretty sure that's because it's broke, though.
Fit: 5/5
Overall, the lenses, once fixed, are probably going to become my favorite pair of lenses. The enlargement is great, the lens that I could wear was very comfortable, the color was very vibrant, and they didn't move about on my eye. But, because of one lens being defective, I'm hesitant to give them a perfect score.
Overall: 4/5

Last up, Seeshell Cosmo Green 14.5mm



One in, one out. No makeup.



Both in, no makeup.


Both in with makeup. (flash)

These lenses were also remarkably comfortable. I haven't had this much luck with comfortable lenses yet! These ones, once in, I couldn't feel AT ALL. To such an extent, that when I was trying them on and taking picture, I almost forgot to take one of them out before I popped in another pair for a picture! I didn't wear these for any extended period of time, but with how good they felt for the 10 minutes they were in, I think these will work out quite well in the long run.
Comfort: 6/5
However, with these lenses, even though it was supposed to be 14.5mm, there was little to NO enlargement. They enlarged a little bit, but not nearly a big as any of the other 14.5mm lenses I've gotten before. What they lacked in enlargement, they made up for with being a nice natural color enhancement. The color wasn't strikingly obvious or particularly vibrant, but it was a nice enhancement.
Enlargement/Cosmetic: 3/5
As for fit, these didn't do as much sliding around as I feared they would at first. And, looking back, I don't know why I thought they would slide around. *shrugs* They stayed put pretty well, and didn't end up doing any of that drooping that I can feel some of my circle lenses doing while I'm wearing them. (I'm sure some of you know what I'm talking about).
Fit: 5/5
Overall, I was a little disappointed with the size of the lenses, but the comfort and natural effect made up for some of the lack in the enlargement department. I can see these being a nice lens I can wear to work and feel a bit more gal than normal.
Overall: 4/5

WOO!~ That took a lot out of me! I'm really happy with my package, and am once again completely satisfied with Pinky Paradise and their products. I will be even happier when they send me new/replace the one defective lens I received. (I hope!)

ANNDD~ Look for my Head Kandy extensions review. I'll try to have it up tomorrow...

But, before then, Princess Mimi Apple Green 15mm (Tsubasa Bambi series) and new extensions combined with the outfit I wore today!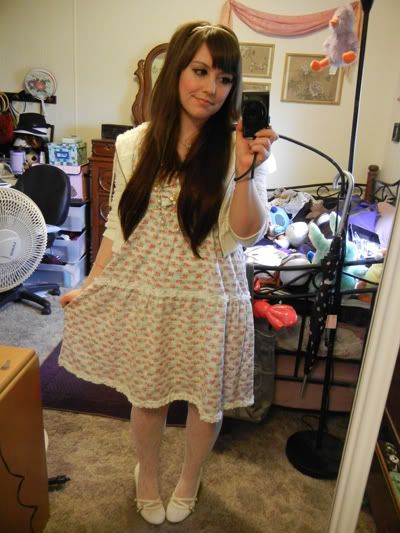 My outfit. My hair wasn't being altogether cooperative today, but the extensions hid a good portion of that xPP



Inside + derpy-ness!!!

And, as always, Thanks for looking!
posted by l0ckheart @ 2:19 PM
2 comments

------------------------------------------------------------------------------
Clubbing with my Katy! :: Monday, April 11, 2011
Went to the club again this week. It wasn't quite as fun because a friend's girl friend who was there for some reason thinks both Katy and I wanna screw her boyfriend. Personally, he's a 'friend' but not a close one... and I wouldn't touch him with a 10 foot pole cause he's a douche-bag and Katy is practically married.
But, all night, whenever she was around, the table would get really awkward... and she'd start making snide comments about Katy and I which, I can only guess, she thought we couldn't hear... so we spent the night exchanging glances with all of our other friends like "is this bitch for realz?" She at one point leaned over to me butting into a conversation I was having and said "you know, you are SO pretty.. you know, with your fake hair and fake eyelashes and fake contacts and fake nails and fake boobs! HAHA, you know, it's cool, I wear fake hair too sometimes! You know... like on APRIL FOOL'S DAY..." I looked at her for maybe a moment... then said "my boobs and nails aren't fake, actually.." and then turned back and continued the conversation I was having with another friend. xP She just looked slightly stunned, and then got up and huffed away.
I mean, I'm a gal, I take it as a complement that you like my extensions, eyelashes, and contacts! Even if you're completely jealous and have a caustic personality.

So, anyways! A couple pictures!




My Katy and I. She is NOT a gal. (but still absolutely adorable!)



AND, my not so fake fake nails!

That's all for now! I need to change my mindset back into spring/summer soon. It's so warm here and I just can't decide what to wear!!!
posted by l0ckheart @ 5:53 AM
4 comments

------------------------------------------------------------------------------
I need to stick, stick, stick out. I just can't be like you. :: Friday, April 8, 2011
I find it kind of humorous that one of the biggest insults in the gyaru community is "she's so fat" or "you're fat!" I just don't get it. What's worse, it's usually used toward girl that are no where NEAR being fat.
I understand that it comes from the Japanese models being stick thin, that anyone that isn't quite that small looks fat in comparison... but are so many girls so insecure with their bodies, that they feel they are "fat" when they don't look as thin as the models? And then, because they feel insecure, they feel that the worse insult they can attack someone with is "SO FAT!"
Maybe this feeling comes from being a little older than the average gal and having grown into my womanly curvy-ness already. It happens to just about all of us. As we get older, we get WIDER! Don't you know that's why they call us BROADS! xP Even if I starved myself now, I will never get down to the shape and size I was in high school. and I'd still be pear shaped and have a huge ba-dunk-a-dunk. xPP And, I'm ok with that.
That, of course, doesn't mean I'm going to scarf down a whole container of ice cream and sit on my ass all the time... but, honestly it would be wonderful if more of the community had a more healthy body image both for themselves and for others. And, TOLERANCE! We can't all be Tsubasa, now.

Oh, on another subject. Do ya'll remember how I said I wasn't buying the extensions I wanted cause they were too expensive... well, I caved!! I've been waiting 2 months already and I think I've deprived myself long enough! That, and I actually have the money now. XD
SO new extensions = new hair styles to try. I'm going to have more hair than I know what to do with now. PERFECT!
I also bought a couple things from rakuten (none of which were on my want list) that I'm anxiously awaiting. I actually got myself an agejo type dress. I've wanted to give the style a try for awhile, but didn't have anything to wear.

And, Some pictures of course.



Blurry picture and the only one I took. High-waisted shorts. They are actually WAY too big for me now that I've lost some weight. D:


Why so sad? I need to stop pouting all the time! Outfit with no sweater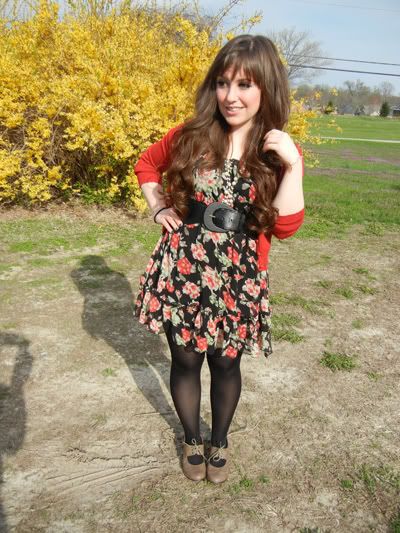 and then out, sweater 付 The wind was blowing so strong. My bangs couldn't hold on!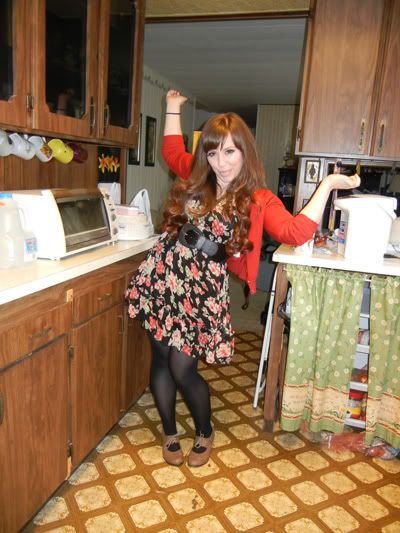 Posing! Gotta have goofie ones. That shows you're having fun!



makeup as usual.

And, since I promised myself I'd go to the gym tonight, that's where I'm headed.
LOVE <3
posted by l0ckheart @ 9:54 AM
6 comments

------------------------------------------------------------------------------
Simple clubbing outfit xDD :: Monday, April 4, 2011
Went out clubbing with some friends last night. Wore a really simple outfit because I wanted to be comfortable and also both cool and warm enough!
Right now the weather is definitely being spring like! So, with the same outfit, one moment you can be freezing and then the next burning up!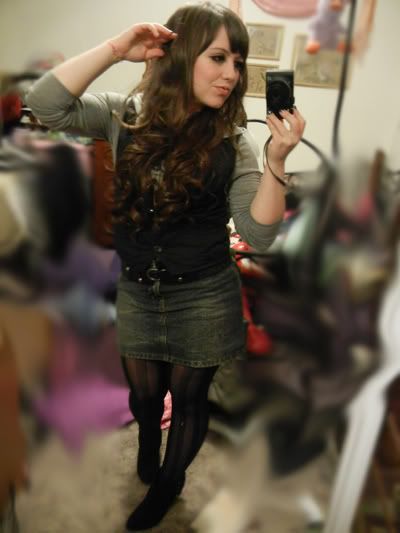 My room is a horrible mess right now. I'll hopefully get around to cleaning it sometime today xD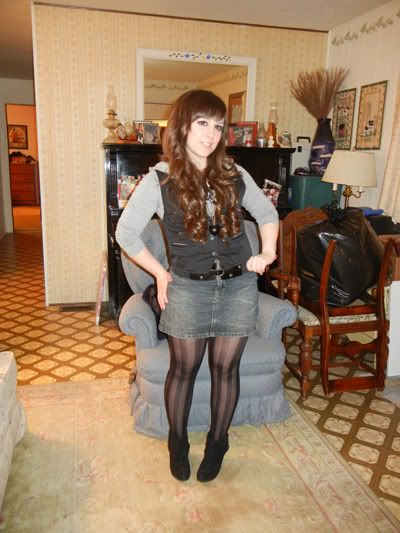 Right before running out the door.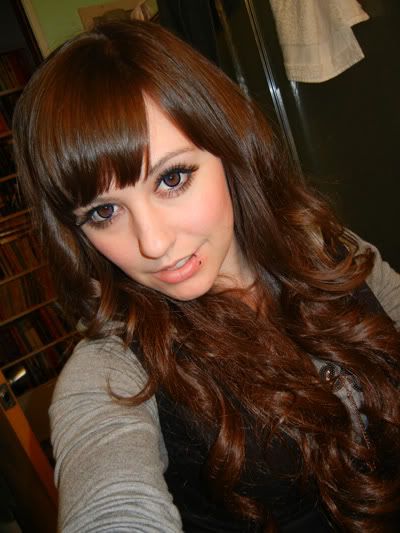 I finally put my lipring back in after having it out for 3 years. I do miss it so!


Friends! I love how Doug's arm looks like it's 3 feet long! We were wearing the same color shirt, so they blend so well!
Sorry for the crappy quality. My cell phone probably has one of the worst cameras on it. The flash makes everyone look like creepy aliens.


and by the end of the night, I was a mess! We danced for hours and hours! My hair never holds up, but my makeup didn't do too bad for once!

And my nails did something interesting...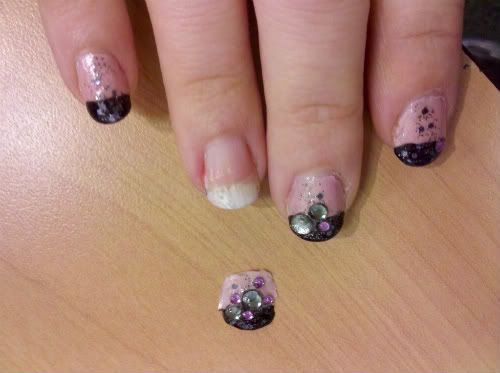 I'm not even wearing gels! But the nail polish just peeled right off perfectly. It was ok, because my nails were starting to grow out and chip anyway.
So, I painted them again.. I went for a kind of deconstructed messy look. I kind of achieved what I was going for, but next time, I'll try to get the lines a little straighter... or maybe that would defeat the point..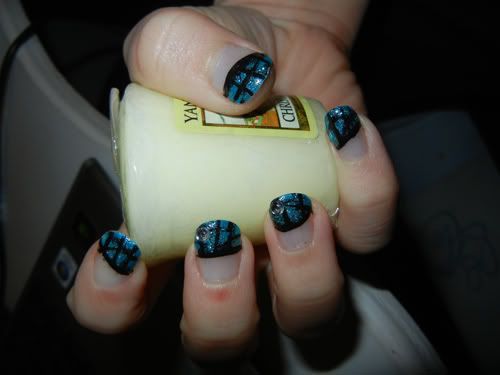 posted by l0ckheart @ 4:29 AM
2 comments

------------------------------------------------------------------------------
Newer Posts
Older Posts