ooooooh... :: Wednesday, February 29, 2012

Been a long weekend! My friend from Chicago was down all weekend, and we did so many fun things!
BUT~~ She has half the pictures from this weekend, so I'll wait a little to post about that xD

Aside from her coming down, last week was pretty tame. A lot of working.... working... and more working.

So, just a pic spam of a couple of outfits/looks from last week.



NAKED FACE~!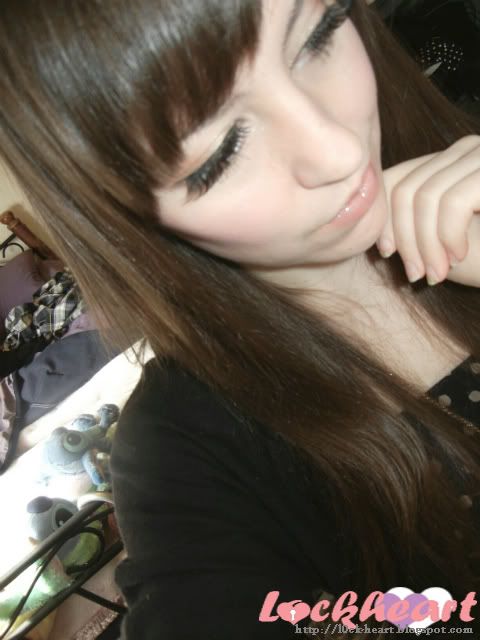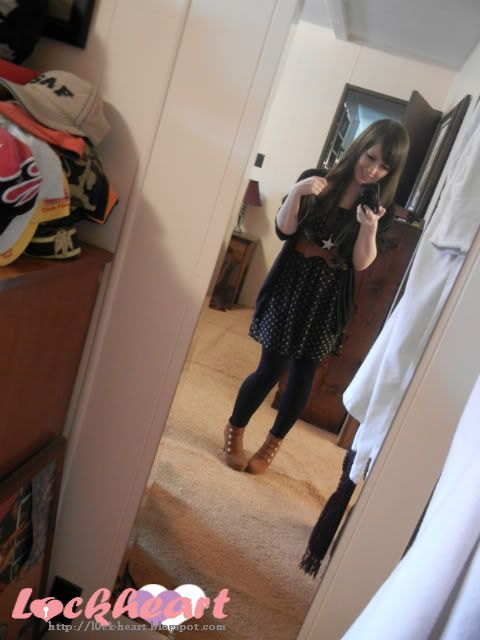 Makeup and outfit for work on Tuesday

I also bought some new makeup that day. I've been needing some new powder foundation because my Anna Sui compact is almost empty. Also, I bought a lip butter that
Cominica reviewed because it looked really nice!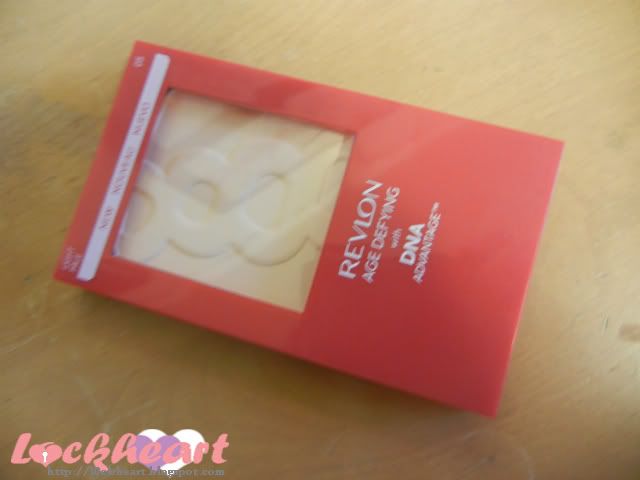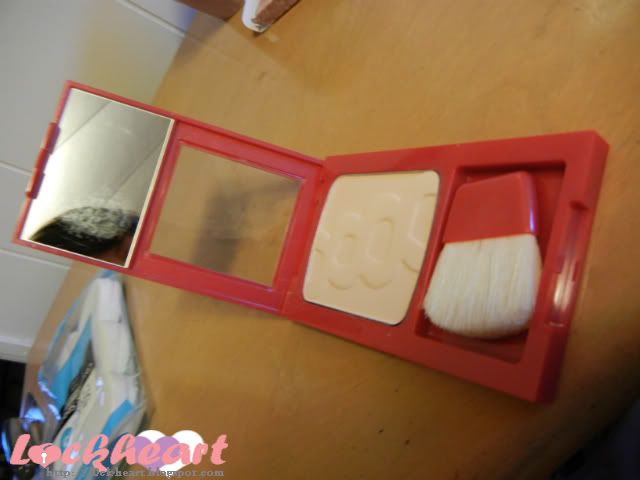 Revlon Age Defying with DNA Advantage in light/pale. This is in the same line as my liquid foundation, so I decided to try it! It actually has great coverage and blends better with my actual skin color than my Anna Sui.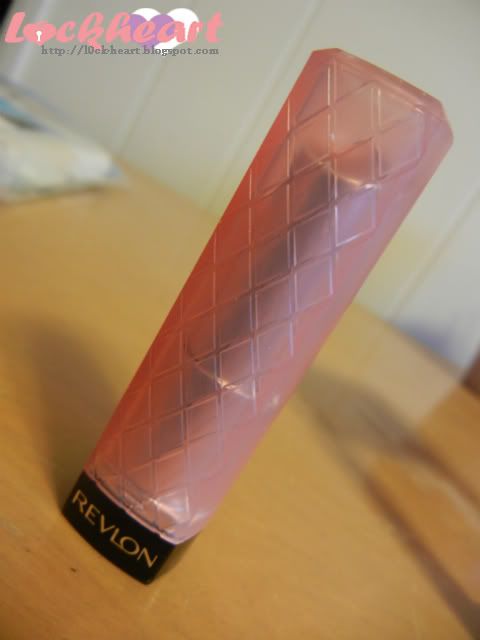 Revlon Colorburst Lip Butter in Sugar Frosting.
This lip butter is SOOO smooth and hydrating. I usually stay away from lipstick types because I don't personally like how it looks on my lips. But, this stuff is GREAT!

I am SUCH a drugstore cosmetics girl. All the beauty counter cosmetics I've tried have either broke me out, look AWFUL! or are really not any better than anything I can find for cheaper at my local drugstore/supermarket!

Anyway, This is my look from Friday at work. (I'm wearing both new makeups)



FACE! (using lightbox!) here are the originals if anyone cares xD 1. 2.



Super casual outfit.

And, last random thing for this post! I am in the middle of Deco-den-ing my 2nd new phone case! I'm waiting for new jewels now, but I'll show you the end results when I'm done :)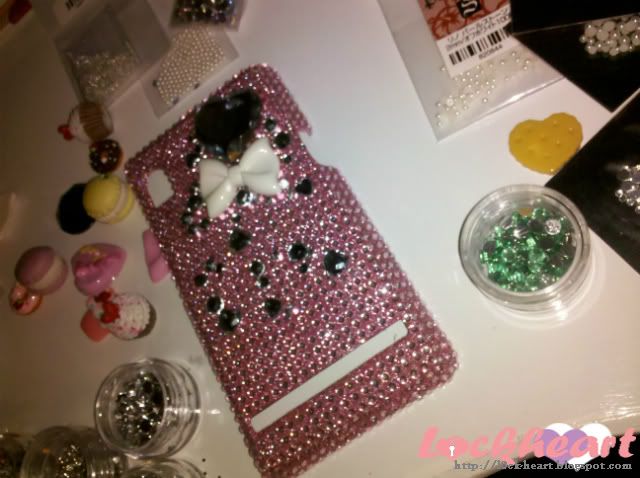 yup.

posted by l0ckheart @ 6:21 AM
6 comments

------------------------------------------------------------------------------
TUMBLR! :: Wednesday, February 22, 2012

Look at me, another post! lol!

I started a tumblr just... cause. I don't really understand how it works, but I'll figure it out eventually.



Made the layout myself... as usual.
Why does it always look so much better when I'm not on it! T_T

L0ck-heart

If you have a tumblr, leave me a link here! Or, if you have some good tumblrs to follow, I'd love to know of them!


posted by l0ckheart @ 8:43 AM
2 comments

------------------------------------------------------------------------------
Lightbox :) Show me your inspirations! :: Tuesday, February 21, 2012

I've wanted to use Instagram for the longest time. Only problem, I don't have an iphone. So, periodically I look about on the droid app site to find something close...

Well, long story short, there really isn't anything quite like Instagram. But, I've found something kind of close.
It's called Lightbox. You can change filters on it, and there's some nice ones. Not as many as Instagram (sadness) And do some other basic photo editing.

It's really nothing that a basic photo editor can't do, but it's on your phone and quick... and has a nice insta-fix option that does a good job of brightening dark photos and fixing other problem lighting.

I've been playing with it the last couple of days. It's not spectacular, but it's kind of fun. :)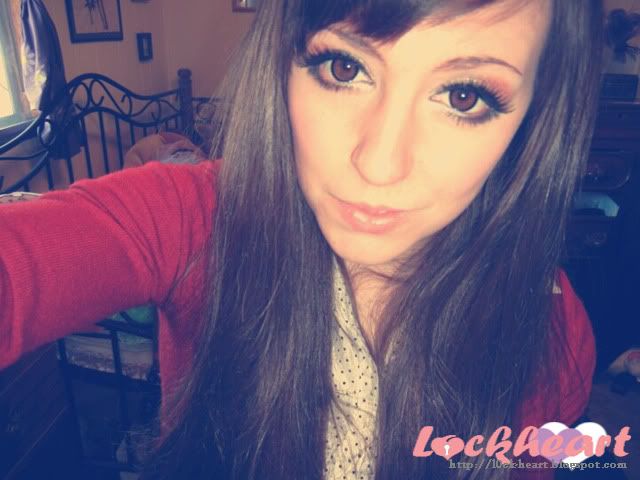 And, one without filters.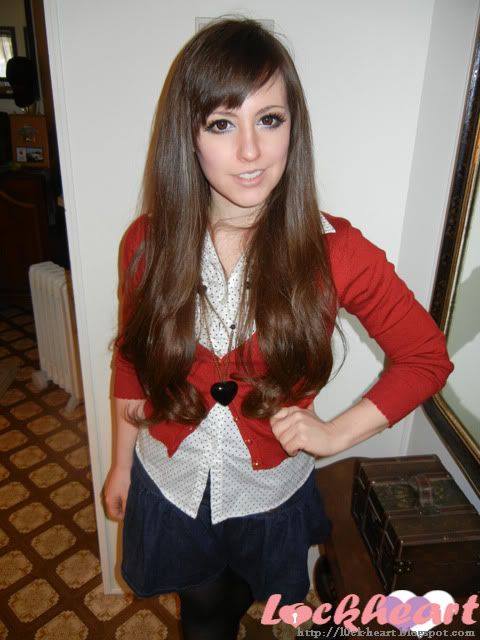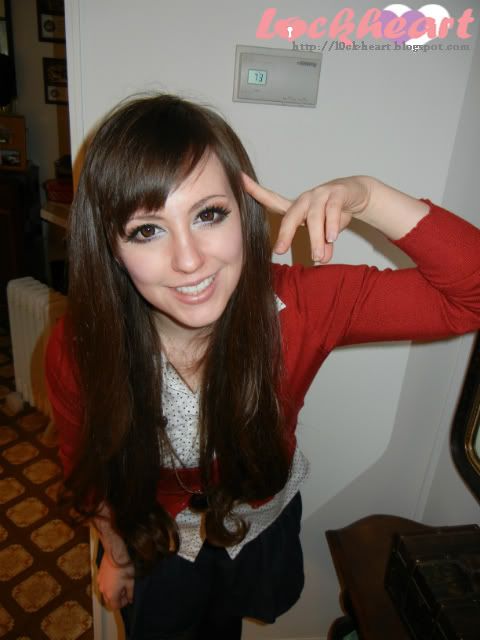 (omg derp mouth! It's always like that! My teeth always come out! BAH!)

If anyone knows any other apps available on the droid that're like Instagram, I'd be SOOOO happy to know of them!

Aside from that, still nothing very interesting happening with me. I changed my header image again. I wasn't really satisfied with it yet... I might end up changing it again and again! lol!

I REALLLY need start paying attention to the trends again. I haven't opened a magazine or browsed any of my usual sites in the longest time! I really need the inspiration, too!
So, I'm going to be putting together another inspo post!

And, if ya'll wouldn't mind, send me a link to what's inspiring you the most right now. It can be makeup, a model, a co-ord, food! Anything!
What is inspiring you now!?
I want to know :P



posted by l0ckheart @ 3:00 PM
8 comments

------------------------------------------------------------------------------
BORING WEEK IS BORING! :: Saturday, February 18, 2012
This last week has been horribly boring. Nothing really has been happening in my life... I have work... and sitting at home... and more work... and more sitting at home... VERY.BORING. That, and aside from being boring... it's been bad. I've had 2 really low and depressing weeks. I think a lot of it has to do with the weather. It FINALLY became winter for a couple of days. It snowed, and rained... and was cold and nasty... but now, it's sunny again and today I didn't even need a coat when I went to work! WTF weather! It's been beautiful weather for most of the winter. SO weird.

Luckily, next weekend, my Evil will be coming down to visit me!! So, I just have to wait until then.

So, boring week yields boring post. But, I feel like I should post something anyway :)

I did manage to put myself together for one day and took a couple pictures before leaving the house for work and boring-ness.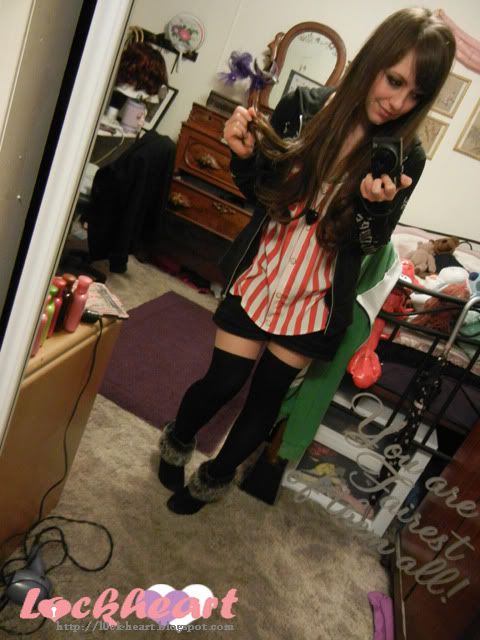 Outfit! All of my clothes are TOO BIG! They hang on me! I really need to save my money so I can get some that actually fit. But, I'm waiting until I'm finally finished losing weight. SO, sooon! (I hope)
Also, my camera died, so one phone picture.



SO SEXY! lolz!

And just so there's something interesting-ish... FOOOOD!


Baby Spinach, chicken salad, avacado, and Skinny Mocha latte from Starbucks! YUM!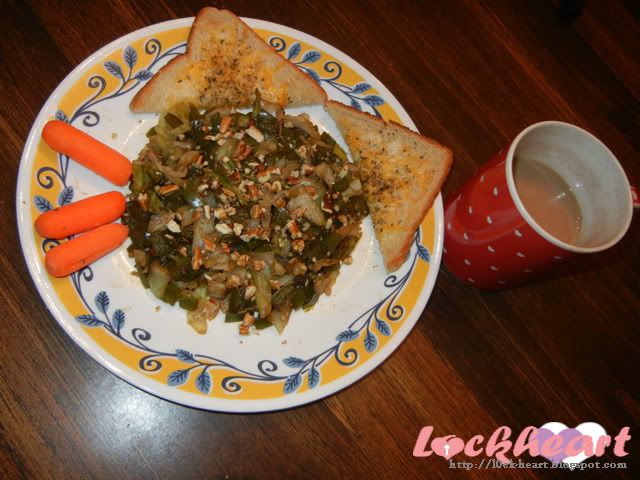 Vegetable stir-fry, pecans, and garlic toast!

I also wanted to let you all know, when I cook, I use NO OIL and also no salt. You can stir-fry veggies in water if you cook them slowly. Also, I've been making mostly vegetarian meals because technically, you're only supposed to eat meat once or twice a WEEK! You should get most of your protein from nuts and vegetables instead. Who knew!?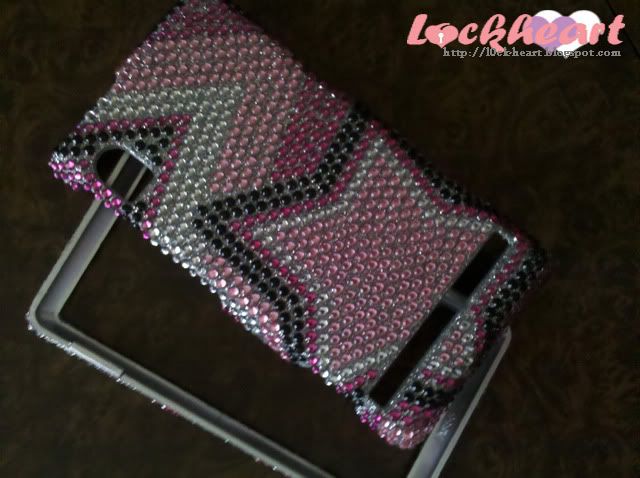 New Phone case!! (another crappy picture) It is SO bling-bling!! And, was only $5 on amazon! Rock! I'm thinking about maybe deco-den-ing it at some point... but right now, I love it just the way it is :)

ANNND~~~ I finally started a formspring. SO~ ASK ME ANYTHING!

Alright... that's it for my boring post!
posted by l0ckheart @ 2:27 PM
4 comments

------------------------------------------------------------------------------
New Layout... again! :: Thursday, February 16, 2012

I really didn't like the layout I had, so I went ahead and made a new one!

I was still feeling the love from Valentine's Day, SO it inspired me to make this theme for my layout!





I hope you all enjoy it!


posted by l0ckheart @ 4:11 PM
8 comments

------------------------------------------------------------------------------
Two Faced: In Your Dreams Palette :: Monday, February 13, 2012

So, I got this palette for Christmas from my sister-in-law and have been waiting a bit to try it out. I'm not gonna lie, I tend to get set in my ways, and get attached to my makeup products. I've been using a natural eyeshadow palette that I bought while in Japan last year... and, unfortunately, it is starting to run out! NOOOOOOOO!

It's time to find something new. And, since I already own this, AND~ it has a lot of the shades I already use, it looks like a good candidate to replace my current palette. Or at least hold me over until I find something I like better.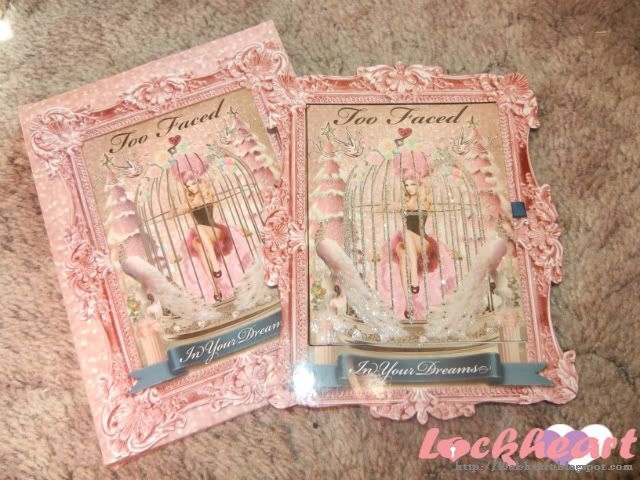 Two Faced: In Your Dreams Palette from Sephora.

As you can see, it really does have some attractive packaging and I am a SUCKER for cute packaging!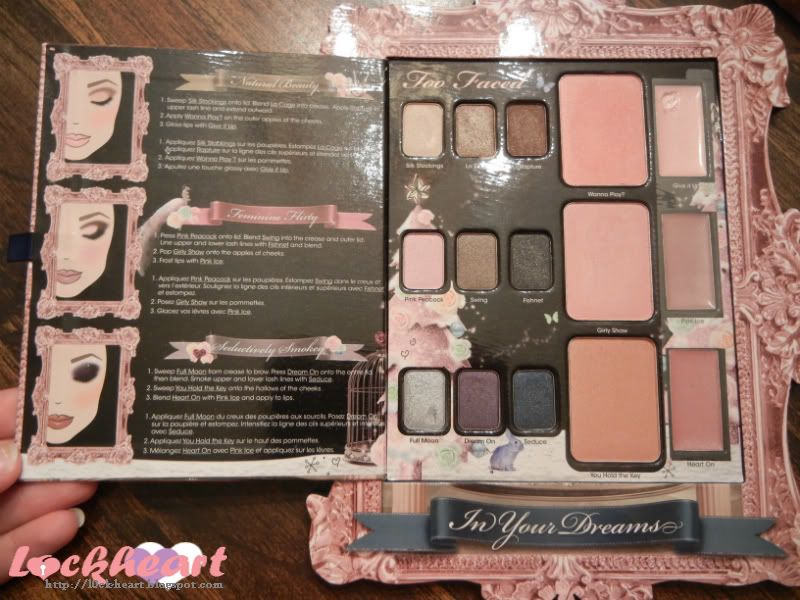 The presentation of this palette is really nice... though, it is definitely reminiscent of the girls princess palettes my father used to buy me when I was little. Inside has a little tutorial/suggestions on how to use the different shades (also reminds me of those palettes).

Shade blocks.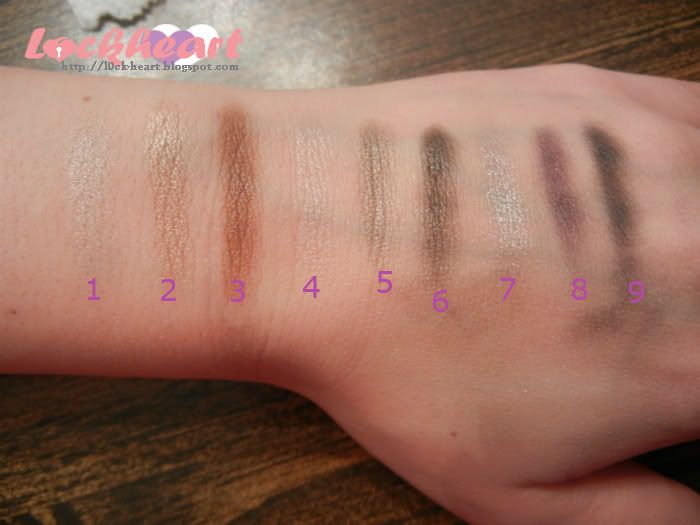 Eyeshadows: w/o flash and with.
The eyeshadows don't have as much shimmer as they look like they should. But, that's not always a bad thing. Matte finishes are just as nice sometimes. Also, the blue is a blue black... not a navy color like it seems in the palette. Oh, and the lightest beige color is actually whitish-grey.... which is a little disappointing.
The shades all took a lot of layering to get the colors to show. So, I don't think the palette will last very long. Also, they don't blend very well. Definitely not something I'm used to. But, I did find they had the same consistency as the MAC eyeshadows I tried, but don't have the same ease of use or POP of color.
Another thing I noticed was the FALLOUT from the shadows. As you can see from the swatches on my skin, the shadows have quite an issue with that. And, when you attempted to brush the powder off, it SMEARS!
I think the shadows would be better used wet, but even so, they aren't the worst I've used, but they aren't the best. They fall right smack in the middle on the scale of quality of shadows.



Blushes: w/o flash and with.
The blushes are actually really nice! Lots of pigment and they spread quite evenly both with a brush and with my finger. I was actually surprised by this. I usually have a hard time finding blushes I like, and all 3 of these colors suit me well depending on the season. And, mixing shade 1 and 2 together comes really close to the blush I'm currently using.... which needs replacing! So, I'm REALLY happy about that. Just the blushes make this palette worth it for me. :)



Lip-glosses: w/o flash and with.
Obviously these will look different on your lips... but you can get a bit of an idea of what they look like. I've only tried shade 1 (give it up) and on your lips, it looks like... a lilac/pale lavender color. I'm not a gloss girl, personally. They actually tend to annoy me because my hair always blows against my lips and then gets stuck. FEELS SO GROSS!!!! YUCK! As far as glosses go, I found these thicker than most... and therefore, easier for my hair to get stuck. And, that's all I can really say about it. xD


Today, I used eyeshadows 1, 2, 3 and 6. I also used blushes 1&2 mixed. And, here's like... the worst eyeshadow chart ever made! to show how I used them...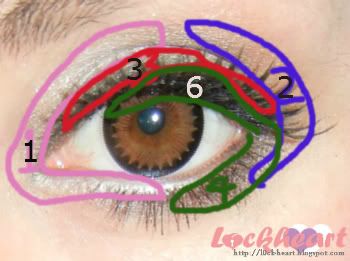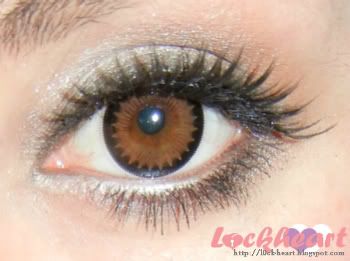 And, the whole look. (Which I wasn't so very satisfied with T_T)




And outfit... Yeah, yeah... I looked like an elf today.. xD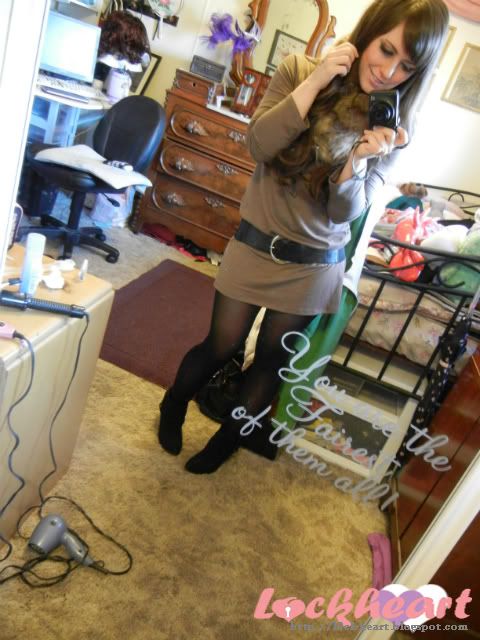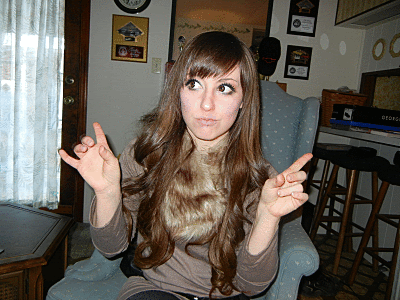 That's it for today :)


posted by l0ckheart @ 1:57 PM
6 comments

------------------------------------------------------------------------------
SALE POST! OH MY! :: Thursday, February 9, 2012
OK!
Spent the entire morning before work putting this post up!

I have my sale over on Livejournal. It's ok if you don't have an account over there. If you see something you like, you can leave an anonymous comment there, or a comment here with you info!

MY SALE IS HERE!!!

and and here for brand items Ma*rs, Liz, Cecil...

Tell your friends!


posted by l0ckheart @ 3:58 AM
2 comments

------------------------------------------------------------------------------
The Great Closet Cleanout! :: Monday, February 6, 2012
The other day I was looking in my closet... and was horrified by the fact that there really wasn't any room left... and there was a ridiculous amount of clothing that I no longer wore or even liked there!!! My closet was long over-due a makeover...
So, this morning I started the GREAT CLOSET CLEANOUT!

It took most of the day to go through it, but I finally got it done... there's still a lot of stuff that I'm keeping out of nostalgia (sometimes you just can't let go! even when you know you wont wear it again...), but there is now room!

Before and after!



Main closet(left) before and after.
It kills me to get rid of dresses... it was by far the hardest thing for me... but I managed to let 17 dresses go!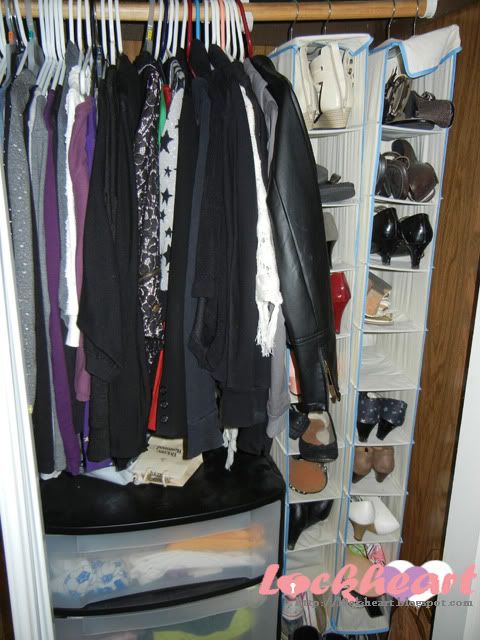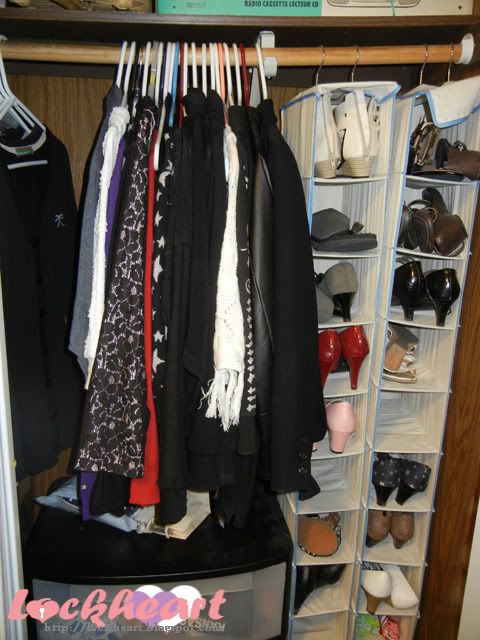 Main Closet(right)before and after.
Bye-bye some shirts and cardigans. I need more cardigans... yet don't at the same time.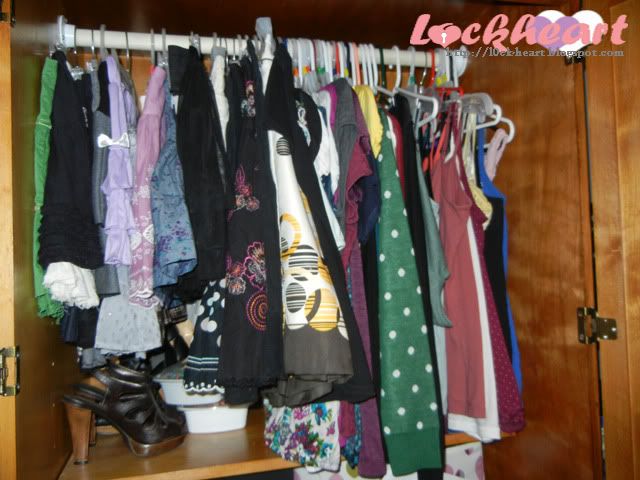 Wardrobe before and after.
All of my work skirts except 5 are now GONE GONE GONE! And, the ones I kept are the only ones not horrendously giant on me now. A couple of my 'cute' skirts are gone (they weren't cute on me xD), and my 'work' t-shirts... man, some of them were ugly ugly ugly!

Now, I'm left with a huge pile of clothes for my ma to go through, donations, and a ton of clothes from Japan that I'm going to be selling!! YAY!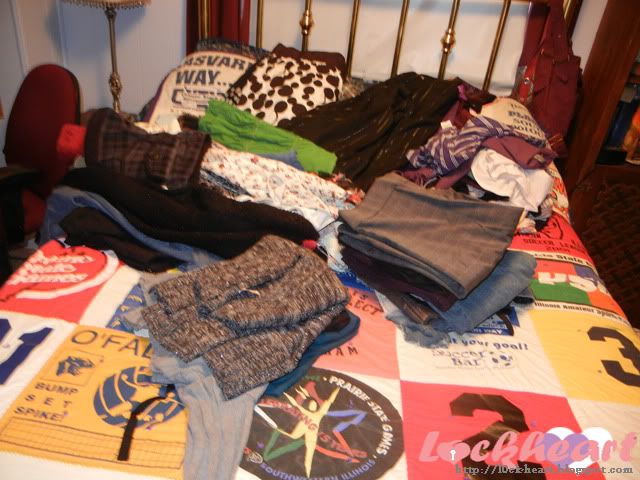 The picture really doesn't do justice to the pile!!

I also cleaned out some of my drawers... but that wasn't as impressive.


In other news, I've been cooking an absurd amount!
Since I've been home from Japan, my weight has buoyed up a bit because I can't STOP EATING! On my previous diet, that wouldn't be a problem because I was always eating good food. Lots of veggies, fruits, low cal. etc. So, I could pig out and still not worry...
Since I've gotten home I've been pigging out on things like... cookies, cake, french fries, Chinese food... It's not even like I WANT to eat those foods!
But, I eat when I'm emotional... and lots of family crap has been happening lately, SO, I've just been eating what is easy. Sadly, cookies, cake and the likes are EASY to make and eat... mostly because they are all made for me! (microwave... horrible invention!)

SOOOO, I have started cooking everything myself again! Here's some foods I've been making.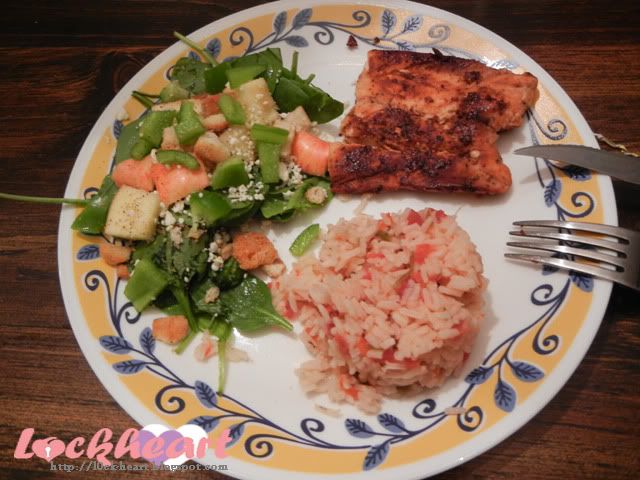 Tuna Steaks, rice pilaff, and apple salad



Poblano Peppers and feta cheese pasta



Poblano Peppers, mushrooms, onions, and garbanzo beans. (with tortilla)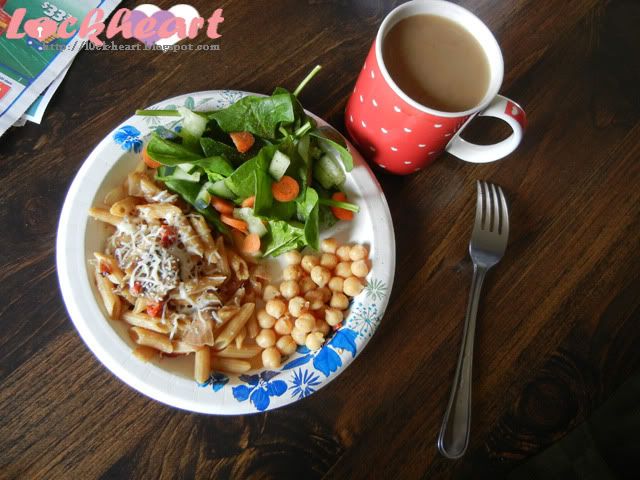 Vegetable pasta, garbanzo beans, and salad.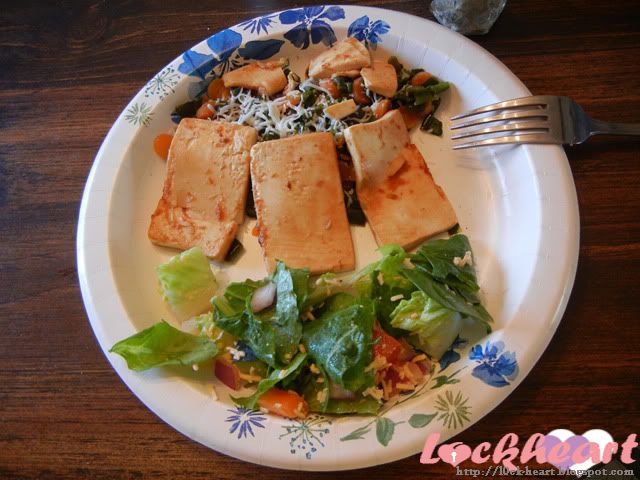 Tofu steaks, Poblano Pepper and carrot saute, and salad.

(now I'm hungry again!)

and, a couple pictures of why I've put on some weight...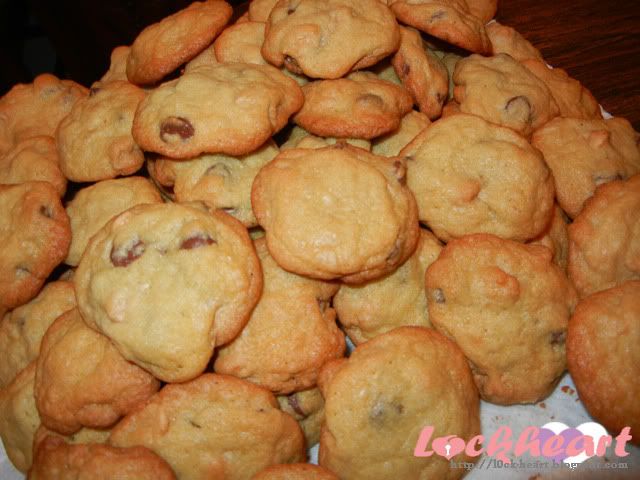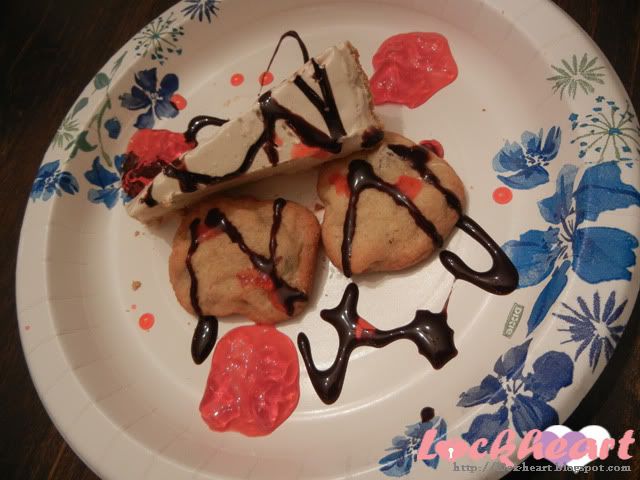 As well as cooking good meals... I've been baking cookies and cakes. Now, the cookies are all gone... so, I wont be as tempted. xD

And, me from the last couple of days. :)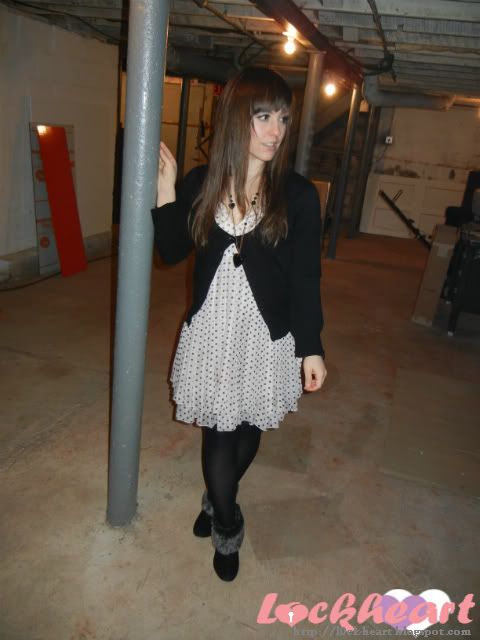 Tuesday: working with the signs. (and playing with photoshop xD)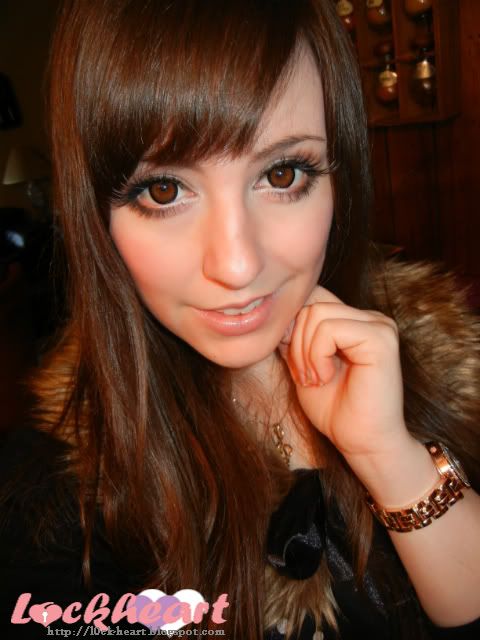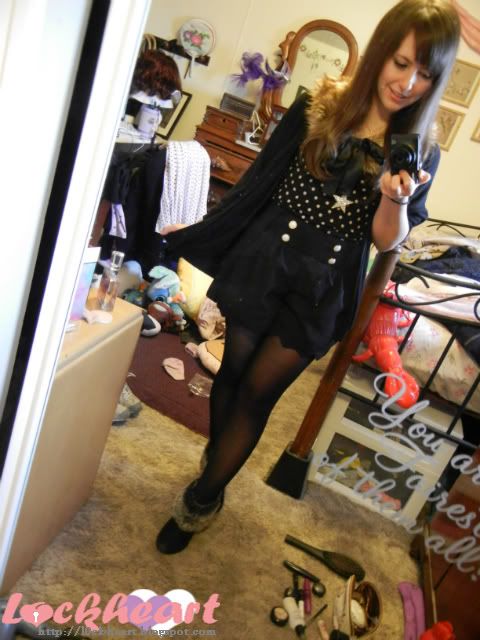 Friday: My brother brought my littlest nephew up from Texas to visit. He is the CUTEST THING EVER!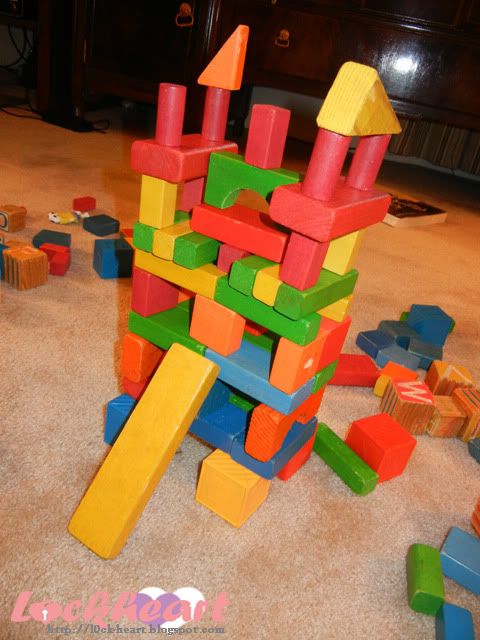 We played with blocks all night.... which he enjoyed knocking down like godzilla! Little monster. xD


Oh... last thing, I haven't been wearing my extentions much lately... not because I don't LOVE them still... but because I'm toying with the idea of cutting my hair short. Like... to my shoulders... to do a cute-ish bob.. but I don't know. xD

posted by l0ckheart @ 12:30 PM
12 comments

------------------------------------------------------------------------------
Newer Posts
Older Posts