Throw some glitter make it rain on 'em :: Sunday, April 17, 2011
Extension review time!!!

Since I actually got a chance to wear them most of the day today, I feel I am now in the position to make an accurate review xPPP

So, I just got my new extensions from Head Kandy the day before yesterday. This company provides services to most of Europe, the UK, USA, Australia and Canada. I have to say, I've have nothing but good to say about this company. They supply a great selection of human hair clip in extensions for a pretty decent price. Not only do they have a great selection, but they have wonderful customer service. If you're having trouble figuring out which color extensions would be best to match your hair, all you have to do is send a couple good pictures into their customer service, and they will give you a best match option. Great if you're going back and forth between a couple different colors!! Also, they provide quick shipping!! I placed my order on April 5th and they arrived to my house, shipping from the UK, on the 14th. So, about 9 days from check out until I had the actual product in my hands. In my opinion, that's pretty excellent service.

The product came packaged quite well in a super shiny metallic mailer.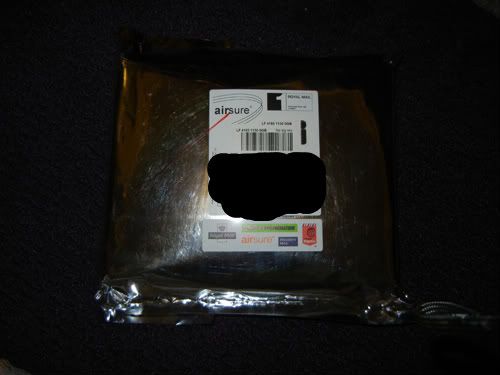 When I opened the mailer, inside was a nice box with a detailed pamphlet explaining how to take care of your extensions, coloring guidance, and tips on how to style and wear them. Very nice! Head Kandy's extensions can be dyed up to 2 shades darker, and they also supply a Dye it Yourself color option which is great for dying your extensions to match your natural hair color. However, the extensions cannot be lightened, so try to pick a shade lighter than your natural color if you are unsure.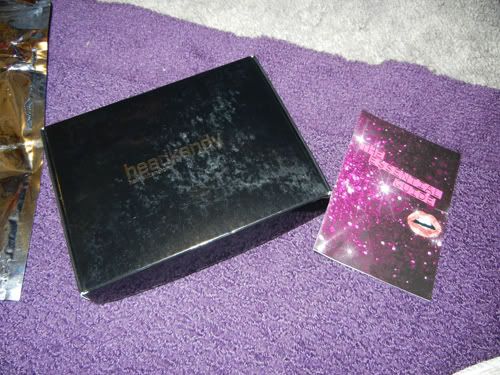 Inside the box, the extensions were well packaged in a high quality plastic case. And, they supplied extra clips in the event the clips already on the extensions break. I great idea since I've had a clip break on me before!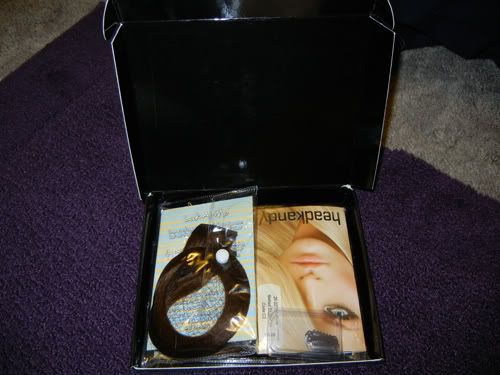 The plastic case was separated into 2 sections, in one section was this...


One of the sets of clips so that you could take it out and make sure the extensions match your own hair color! So, if you accidentally order the wrong color, this makes it a lot easier to tell without having to open the entire case of extensions. I ordered melted chocolate - medium brown for my extensions, and, though a little redder than my own, turned out to be a great match for my hair.

All of the hair came in a hair net in order to keep the hair together and smooth when storing. Here comes my only complaint! The hair net for the majority of the hair is a little on the small side, which makes putting the hair away a little difficult. But, it is a sturdy hair net... and not a janky holey one like my curly extensions came in.

I got the whole head set of extensions ($179.99 + s/h), so my pack came with two 1 clip wefts, five 2 clips wefts, two 3 clip wefts, and a 3 clip that had 4 wefts sewn together. WAY more hair than I really need, but probably just enough for someone who has a lot of thick hair.



The hair, right out of the plastic was very soft and smooth. There were no snarls or knots and the hair didn't have that coarse feeling some of the cheaper human hair extensions tend to have. The clips on the extensions are pretty standard, but not cheap. They clip really easily into my hair, and once in, they stay really well. I haven't had any problems with slippage yet, and my hair is baby fine and smooth.

I am VERY happy with the quality, and very much think the extensions are worth every bit of the $200 I paid for them!! Customer service on Head Kandy's website is wonderful, shipping is fast, great packaging, and very high quality hair extensions. SO, if you live in their shipping area and are looking for relatively affordable human hair extensions, this is an excellent place to purchase from!

And, of course some pictures! I actually took my time putting the extensions in today, so they blend!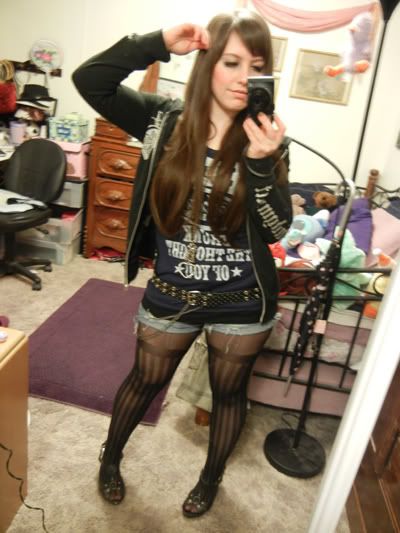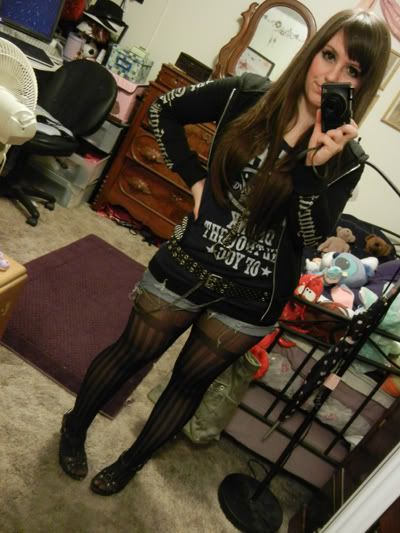 Went for a rocker agejo-esque look for tonight. I would kill for a d.i.a. belt, though. No joke.





Did my makeup a little different today. Added some point bottom lashes at the outer corners of my eyes, and also did a little bit of smokey eye using black eyeshadow mixed with my usual dark brown. I think it turned out pretty well.


posted by l0ckheart @ 3:24 PM

------------------------------------------------------------------------------
Newer Posts
Older Posts